Supporters with disabilities must have the same access to all Ghelamco Arena facilities as any other supporter. That was the premise of all parties involved in designing and building the new football stadium. Access for All, a guide by the Union of European Football Associations (UEFA) and the Centre for Access to Football in Europe (CAFE), served as their handbook, and the result is a football stadium that is accessible to all.
Facilities for wheelchair supporters
Spaces in the stands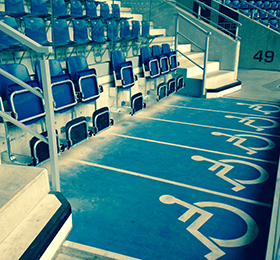 Each of the stadium's corners (221-222, 227-228, 427-428 en 421-422) has special spaces for wheelchair bound supporters. Each space has room for one supporter in a wheelchair and at least one companion sitting behind them in an elevated chair.
Level +2 has forty spaces (thirty for KAA Gent supporters and ten for visiting supporters) interspersed among the other supporters, located eight meters above the pitch and offering optimal visibility. Sixteen of the forty wheelcair spaces have room for two people, one of whom should be the disabled supporters companion.
Lowered, wheelchair-accessible selling and catering points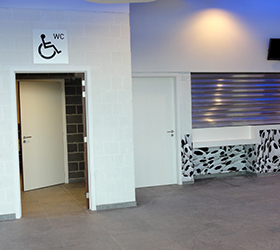 All corners of the Ghelamco Arena's supporter promenade have eight catering points (four food stands and four drink stands) with lowered and wheelchair-accessible counters near the wheelchair spectator spaces, as well as wheelchair-accessjble recharging points for the cashless payment system. There is a lowered ticket counter at the stadium entrance. The ticket boxes at entrances C and D also have lowered counters.
Spaces for people with limited mobility
The stadium was developed in such a way that each stand's thirty-two access points has easily accessible spaces next to it. These spaces are available in all of the stadium's stands, both for home and visiting supporters. Lots 423 and 327 each have eighteen spaces with extra leg room (a total of thirty-six places).
Facilities for hard-of-hearing and deaf supporters
The screens displaying information in the stadium (both the two big screens in the arena and the one hundred eighty-four screens in the supporter areas) make optimal use of "visualisation". Previously recorded reports, for example are captioned. All manner of sport-related information (team layout, scorers...) is displayed on the big screens in text format. In case of emergency all screens go into safety mode and display all safety notices visually.
Hard-of-hearing supporters in lots 221-222 can easily request a headset, or a neck loop enabling their T-coll-equipped hearing aid (selecting "T" or "MT") to receive the stadium commentator's voice by radio transmission. Six units of this system are initially available and this number will be expanded shouid there be regular demand for additional units.
The Ghelamco Arena ticket counter uses a Soundshuttle: the staff member's voice is converted into inductive signals and sent to an integrated inductive loop. Hearing aids with a T-coll (switched to "T" or "MT") can then receive these signals. The drinks stand at gate 21 also has such a Soundshuttle.
Facilities for partially sighted supporters
Tactile paving takes supporters from the kerbside and bus stops to the front of the stadium. The stairways leading to the supporter promenade have been fitted with stud tiles. In the stands too, in particular in corner lots 221-222, 228, 421-422 and 428-428, the downward-going stairs on level +2 have been fitted with stud tiles to prevent falling. the first and last step nosings on stairs throughout the stadium have been marked in contrasting colours.
Lot 222 has spaces for blind supporters that are operated by Intro (an NPO) by order of Voetbal in de stad (also an NPO). These spaces offer partially sighted and blind KAA Gent supporters the possibility of listening to audio-described commentaries through the use of headphones. Commentators work in pairs, transmitting their commentaries from their special vantage point in the press area.
Depending on demand, the number of headphones may be increased. We will also enhance signal strength so that visiting supporters may also enjoy this service. The spaces for blind supporters are an initiative of KAA Gent's community working in close cooperation with Intro and REC Radiocentrum.
Accessibility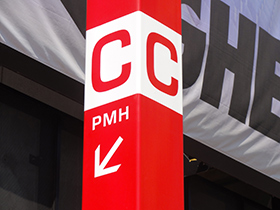 The terrain around and inside the stadium is flat. All levels in the stadium are accessible by elevator. An elevator to the supporter promenade (level +2) is located near stadium entrance C. At very busy moments the service elevator between entrance A and the main entrance of stand 1 can also be used, but under escort by staff. The VIP spaces (in stands 1 and 3) can also be reached by elevator.
Assistance dogs
Assistance dogs, when accompanied by their owner, are the only animals allowed inside the stadium. They are allowed to sit next to their owner in het stand..
Parking spaces for disabled supporters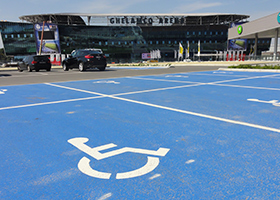 There are eighty parking spaces around the stadium reserved for disabled KAA Gent supporters with a blue disabilitiy card. Stand 1 season-ticket holders use parking A (eight spaces). Stand 2, 3 and 4 supporters use parkings B (fifty spaces) and C (twenty-two spaces). Parking B and C can be reached from the roundabout and Sluisweg road. Card holders need to be present in their cars to be allowed to park in a reserved space. These spaces cannot be reserved in advance.
Disabled visiting supporters - that have a blue card - can use the marking reserved for visiting coaches (entrance through Akkerhage road). Supporters uising a taxi service for disabled people can use the drop-and-go zone in front of the Ghelamco Arena (Ottergemsesteenweg Zuid) or go to parking A (through the roundabout) where they can be dropped off and picked up near stadium entrance B.
Accessible toilets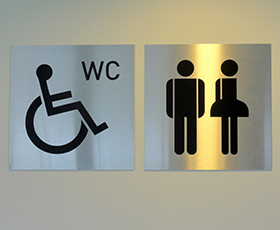 The Ghelamco Arena has fourteen accessible toilets in the public-oriented spaces (one in the entrance hall, two in the Business Restaurant, seven on the promenade and one near the sky boxes, two near Horseele Executive Club/Restaurant and one near the Office Boxes). The neutral zone and two first-aid rooms (for home and visiting supporters) also have accessible toilets..
Escorting service by INTER
At the request of "Voetbal in de stad", at least four volenteers from INTER help out by escorting disabled supporters during all home matches. Supporters requiring assistance can go to the meeting point (PMH) at entrance C from 1,5 hours before the match.
Ticketing and reservations
KAA Gent follows the city of Ghent's Municipal Advisory Board for Disabled People's recommendation: ticket prices for disabled supporters are the same as for other supporters. The price of a disabled supporters's ticket (when proof of disability is presented) includes that of their companion or personal assistant. The same applies to season tickets.
Disabled supporters can acquire tickets through KAA Gent's ticketing booths in the stadium.Those wishing to use spaces for partially sighted or blind people, or an individual neck loop, can book tickets with Voetbal in de stad up to forty-eight hours before a match. (contact@voetbalindestad.be or 093302334)
Disabled visiting supporters
Disabled visiting supporters can buy tickets from the visiting club and will be seated in the visitors' area. There is an elevator for them near entrance G. Disabled supporters with an official blue disability card can park their cars on the parking lot for visiting supporters' coaches (entrance through Akkerhage road).
With the support of the City of Ghent, KAA Gent and the Flemish Government.