Restaurant Horseele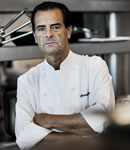 Star restaurant with unique view on the pitch. Restaurant Horseele is open from Tuesday until Saturday, except on matchdays, when it is reserved for the Executive Club. You can make reservations through its website www.restauranthorseele.be or by calling +32-9-3302320.
To go to Restaurant Horseele, enter the Ghelamco Arena through entrance H and take the elevator to the fourth floor, where the restaurant is located. There is parking space near the entrance.
Buffalo Bistro
Weekdays

Our Buffalo Bistro serves salads and hot and cold dishes every weekday between 11:30 and 14:00. It closes on weekends (except on matchdays) and holidays. It is located on the promenade in the corner between stands 1 and 2, and can be reached through gate C, which is one of the two entrances to the Ghelamco stand (stand 2). The stairs at gate C lead straight up. Parking is possible on parking A (in front of stand 1). Click here for a map.
The Buffalo Bistro accepts payment in cash, by credit card or the cashless payment system (your season card or prepaid card).
In addition to a range of hot and cold drinks, the Buffalo Bistro serves a variety of hot and cold dishes. All dishes are available in kid-sized portions, and there is a vegetarian dish as well.
Matchdays
1f you want to enjoy a nice meal in the Ghelamco Arena before a home match the Buffalo Bistro is at your service from 2h30m before kick-off.
So as to be able to offer everyone quality service, we advise dropping by either 2h30 or 1h15 before kick-off. This way we are convinced we can guarantee both quality and service. Everybody has the time to truly enjoy their meal and there are no long lines of people waiting for a table..
Buffalo Sandwich Club

Our Buffalo Sandwich Club is located in the Ghelamco Arena's main entrance hall. Apart from a wide range of sandwiches and Belgian-style breakfast buns, it serves savoury snacks such as hotdogs, paninis and mini pizzas. The menu also includes donuts, muffins, brownies, rice tarts and other goodies.
The Buffalo Sandwich Bar opens every weekday from 11:30 until 13:30.
Payment is in cash or with the cashless payment system (season or prepaid card).