After 3 succesful seasons, the Israeli defender, Rami Gershon, is leaving the Buffalo's and signs a 5 years' deal with Israeli side Maccabi Haifa.
Gershon has been playing in Belgium since 2010 and it was in 2014 that he signed for our club where he became one of the defensive strongholds. During our Championship season (2014-2015) he was one of the regular defenders and became famous for his legendary assist for our first goal in the decisive title match against Standard Luik (21st May 2015). Later on he was struggling with injuries for most of our Champions League campaign and only featured against Wolfsburg for 90 minutes.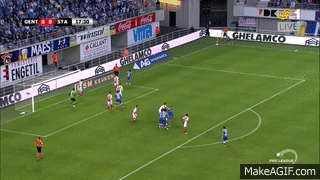 Rami played up to 101 matches for KAA Gent. He became a familiar legend and was one of the team that eliminated Tottenham last year in the Europa League in our 100th European match. He will always be remembered as a tough, very fair defender who gave the best of himself. Always friendly, on and off the field, always working for the team…THANK YOU RAMI AND GOOD LUCK !