Click here to top up your card
The KAA Gent season card
The KAA Gent season card is a season ticket, a membership card and an electronic payment card all rolled into one. lt has the same size as any regular bank card and offers many benefits, one of them being that on matchdays you can use it to pay for all your food and drinks on the promenade.

You can also use it to pay in the fan shop. The card can be recharged both at home (online) and at the stadium. There are at least fifteen recharging points in the stadium where you can recharge your season card using either a debit or credit card, or cash. In addition, specific cards can be bought online or at the ticket shop for Cup, European and friendly matches, so whatever the occasion, you will always have the possibility of going down to the stadium with just one card in your pocket.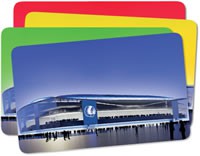 Prepaid card
If you rarely go to a football match and on that special occasion you want to eat or drink something, then a prepaid card is just what you need. Prepaid cards can be bought at the manned recharging points On matchdays or at the Ticketing Office on weekdays. These cards are not personal, so you cannot earn any loyalty points with them nor can they be blocked in case of loss (*).
(*) Visiting supporters can still pay in cash on their part of the promenade.